Check Out Cuenca's 50m Indoor Pool
LiveTheLifeinEcuador | June 10, 2015
For many, nothing beats swimming as a sport and exercise. When you plunge and dart forward into cool and refreshing waters – there is no better feeling in the world. But with Cuenca located in the highlands of Ecuador – about 2500 meters above sea level and surrounded by mountains on all sides – finding a large body of water suitable for swimming can be quite a challenge. While there are four main rivers in the area, they aren't really ideal for swimming.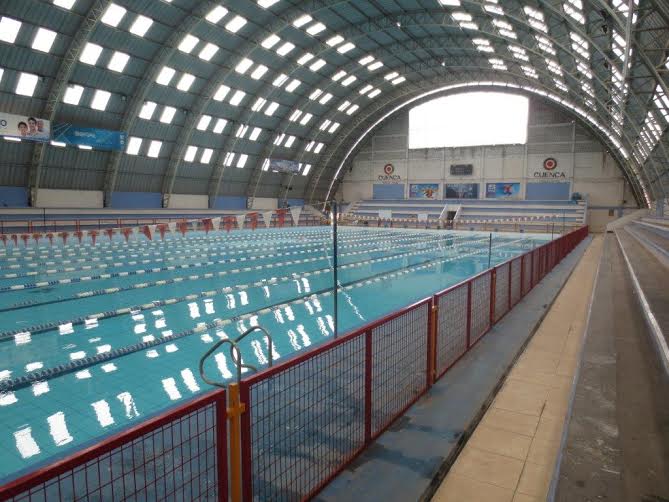 However, Cuenca does have venues perfect for swimming, in the form of public pools. Among the public swimming pools found in Cuenca are the ones at Academia Duran Duran sports center and University of Cuenca, but one of the most popular pools would be the Olympic-sized swimming pool found at the Coliseo Jefferson Perez Quezada. This sports complex was named after one of Cuenca's greatest athletes, the race walker Jefferson Leonardo Pérez Quezada, who won two Olympic medals: a gold at the 1996 Olympics, and a silver at the 2008 Olympics. The Coliseo has numerous sports facilities, which include basketball, racquetball, tennis, and squash courts, an archery area, a rock climbing wall, an Olympic-sized swimming pool, and a diving pool.
The 50-m Olympic-sized indoor swimming pool at the Coliseo complex, known as Piscina Olimpica, has 10 lanes. It is located in the northwestern portion of Cuenca, along Avenida 12 de Abril. The Rio Tomebamba passes behind the main structure that houses the swimming pool and the diving pool, as well as a smaller heated pool where the water temperature is about 105°F. The Olympic swimming pool is open from Monday to Sunday, mostly from 10:00am to 8:00pm. There is a small fee charged for the use of the pool, which can be paid per day, or you can buy a monthly pass for a substantial discount. Residents and tourists can also avail of swimming lessons taught by certified instructors at the Coliseo Piscina Olimpica, often at very affordable hourly rates.