Medicinal Tourism in Ecuador
LiveTheLifeinEcuador | November 11, 2015
There are tons of reasons to visit Ecuador – the fascinating history, the exotic food, the outdoor adventures, and the stunning destinations such as the Amazon jungles, the Andes Mountains or the Galapágos Islands.
Few are aware that Ecuador is quickly becoming a top destination for far more important reasons – health and medical treatment.
What is medicinal tourism?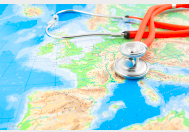 In some ways, medicinal tourism is similar to recreational tourism. You travel, stay at a hotel, and possibly even visit a few attractions – the only difference is, you travel for reasons associated with your health and wellness. Majority of those who embark on medical tours usually do so since medical procedures in other countries are less expensive than back home.
Around the globe, other countries such as Argentina, Brazil, Colombia, Korea, and South Africa already established themselves as popular medicinal tourism destinations.
Ecuador is definitely no exception. The country provides world-class healthcare options and professional service – all while being surrounded by some of the most unforgettable tourist destinations in the entire world.
Medicinal tourism in Cuenca
The city of Cuenca, in particular, is quickly becoming one of Ecuador's more popular destinations for medicinal tourism. The city seamlessly blends their medical infrastructure with top-notch offerings such as cultural attractions, the pleasant climate, and urban amenities, creating a convenient and well-rounded experience for travelers.
The first-class medical clinics in Cuenca offer a wide range of procedures that include cardiology treatments, oncology treatments, orthopedic procedures, and bariatric surgeries. Additionally, the nearby town of Baños de Cuenca is popular for offering relaxation treatments such as natural geothermal spas.
Cuenca is one of the few places in Ecuador which provides both exceptional medical facilities with reputable doctors and an abundance of wellness attractions such as spas and resorts.
—
If you'd like to find out more about medicinal tourism in Cuenca or other areas in Ecuador, get in touch with Torrin Brauch at 239-848-5876 (US) or 097-994-7640 (Ecuador). You can also send him an email at torrin@livethelifeinecuador.com