Dirt Bike Riding in Ecuador
LiveTheLifeinEcuador | October 9, 2015
An adventure for thrill-seekers awaits in the small town of Santa Isabel in the Azuay Province. It's time to don your protective gear and get your daredevil on as we explore dirt bike riding in Santa Isabel and the rest of Ecuador.
Dirt bike riding 101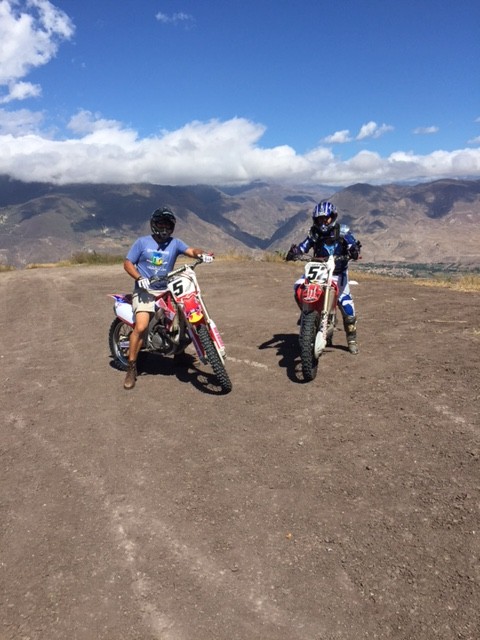 You can think of dirt bike riding as the rugged brother of simply riding on the streets. Divided into two classifications (motocross and trail riding), dirt bike riding is an extreme sport popular around the world.
It's a risky business; like all extreme sports, the threat of danger is constantly on the horizon, but then again, it's the thrill of the sport that keeps enthusiasts going. If you want to guarantee a successful off-road adventure, you need to properly plan and prepare necessary gear. It might require a lot of work, but dirt bike riding, especially in Ecuador, is extremely rewarding.
Go fast or go far
Before going dirt bike riding, you need to have the proper motorbike. Are you going cross-country, or are you looking for fast sprints?
Get a trail bike if you're looking to go far on an off-road, cross-country expedition. Beginner-friendly, trail bikes are for the long haul. They're usually equipped with a softer suspension and a larger gas tank, among others, to take you far. Trail bikes are great especially if you're planning on touring Ecuador on a motorbike or conquering the mountains of San Isabel.
A motocross bike, on the other hand, is highly recommended if you're looking for loads of intense action. Tall seat heights and stiff suspensions are common features, and to make it more trail-friendly, you can have it modified.
Don't have a bike? There are plenty of dirt bike rental places throughout the country, many of which are owned or co-owned by expats.
Ecuador: the next big dirt bike riding destination
Ecuador has some of the best and diverse terrain where you can kick your dirt bike into action. From Santa Isabel in the Yunguilla Valley, you can take trails that lead to nearby places like Lentag, Sulupali Grande, La Tarabita, and La Asuncion. You can even visit the majestic El Chorro waterfall all the way in Giron. Just grab a map or consult dirt bike riding locals for the best trails and off you go on an adventure. Guided tours are available as well.
Have fun!