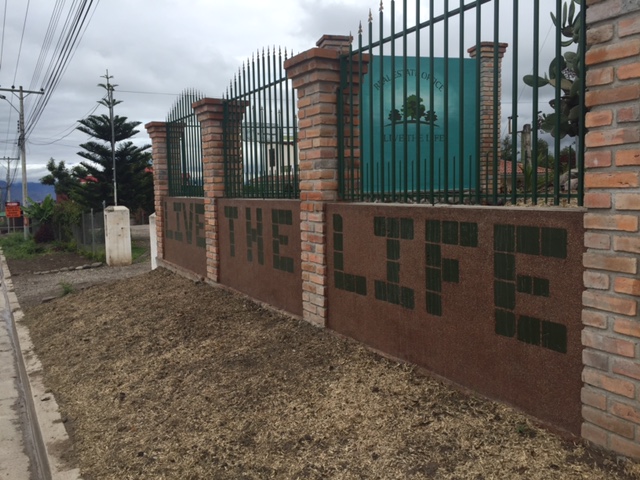 Live the Life is proud to announce the grand opening of the new Live the Life Lodge, along with the El Agave Restaurant and El Toro Bar!
The grand opening takes place today, April 2nd, 2016. There will be food and drinks, live music, dancing, and more, so feel free to join us!
There's going to be a ping pong tournament, a horseshoe competition (starting at noon), Yuca pizza and barbeque, drink specials, dance lessons, and more.
For more info and reservations, you can email Drew at drew@livethelifeinecuador.com.
Live the Life Lodge
Our new lodge can serve as a rest stop for tours or a place to stay and relax during your adventures in Ecuador.
Some of its many features include:
Real estate office
Full-service organic restaurant
El Toro Bar
Clermo's Juice Bar
Dine-in pizza kitchen
Swimming pool with snack bar
Jacuzzi
Sauna
Zip line

Volleyball courts
Fish ponds
Sprawling gardens with organic produce and rare plants
Organic seed store
Spacious 1 to 2-bedroom units
Large house that can accommodate up to 18 guests
Bird watching tours, hiking or biking trips, organic farm tours and trips to Cuenca, Mancora, the El Chorro falls, coastal towns, and other destinations can also be arranged at the lodge.
Hosteria LIVE THE LIFE
Life should be lived to the fullest. This is the guiding principle of everything we do here at LiveTheLife.
And here in Ecuador, you can truly live life to the hilt.
Just imagine waking up every day to fresh air, gorgeous mountain or ocean views, pristine forests and shorelines, and good organically grown food. In Ecuador, your every day simple joys are truly worth waking up to – whether it's the early morning bird calls, a freshly harvested basket of your own crop of vegetables, or the quiet of a starlit evening.
This is what we at LiveTheLife want to help you discover.
Our Philosophy
Whether you want to relocate, check out investment properties, or you simply want to de-stress and leave the hustle and bustle of the world behind, LiveTheLife is here to help you out. Our team of experts knows the best places to go and the properties with the most potential.
It's all about offering you only the best.
We value our clients' time and there is no point in giving you sub par recommendations. To live life at the fullest in Ecuador, you deserve nothing less than outstanding service. This involves:
Comprehensive service from the time your plane lands to the day you move in and beyond
Providing up-to-date and deeply researched market information
Dedicated representation throughout the real estate investment process
Advice on residency, staffing, legal and financial concerns, and more
Our Promise
At LiveTheLife, we do our utmost to ensure that our clients find what they're looking for in Ecuador. Our staff in both of our offices at Lentag and Cuenca are well-trained and highly knowledgeable. Whether you are a casual traveler looking for a new trail or beach to explore or a serious investor out for a new piece of real estate to add to your portfolio, LiveTheLife will deliver the best results to you.